What Jewelry Retailers Should Have Learned From 2020
CERTAIN ASPECTS OF the jewelry business changed more dramatically in 10 months of 2020 than in all of the previous decade. In many cases, the advent of a global pandemic simply sped up what was inevitable. Other changes, such as skipping holiday parties, could not have been foreseen. Still, retailers who are expecting everything to simply snap back to the old normal sometime this year or next are kidding themselves, says Kate Peterson, CEO of Performance Concepts.
"So much has changed in the past year that if they're not looking to move forward, they're going to fail miserably," she says. "Everything has changed, from the need for a more aggressive and appealing digital presence, all the way through to the fundamental things, like people are not going to suddenly stop washing their hands and using hand sanitizer."
Three years ago, retailers scoffed, Peterson says, when she advised them to create an omni-channel experience within five years or risk losing their business. The pandemic sped up the pace of that prediction.
"When COVID-19 hit, most good retailers scrambled and marshaled the troops and got themselves functional," she says. "But people who had already done that didn't miss a beat and are doing extraordinarily well."
When millennial owners Elliott and Eva-Michelle Spicer of Spicer Greene Jewelers in Asheville, NC, for example, rebranded her family store in 2016, they invested heavily in photographing, displaying and describing on their website every item available in their store. Initially, they saw little return on investment. "A year after that, we saw sales go up, but it wasn't till COVID that it really took off," says Eva-Michelle. "I'm happy we were proactive and not reactive." E-commerce carried them through April's shutdown, and business rebounded sharply in May, even before they reopened officially.
Bill Jones, CEO of Arkansas-based Sissy's Log Cabin, was able to pivot successfully by cutting expenses, putting buying on hold and harnessing the power of social media. "It's made us better businesspeople," Jones says. "We took our aged merchandise and repurposed it. For about two or three months, we did hardly any buying."
Advertisement
Gabrielle Grazi, vice president, retail, for the Natural Diamond Council, says that in the 10 months between March and December, sales of luxury items online grew more than in the previous 10 years. "It's critically important that jewelers position themselves well for future generations of consumers, who are digital natives," she says.
Here are 19 important ways retail has changed in the past decade, with some changes occurring or speeding up within the past 12 months.
OUT:

Don't ask, don't tell where the jewelry comes from


IN:

Begin to cultivate a responsible supply chain
Being a sustainable and ethical luxury brand is high on the list of expectations for young, affluent Americans, reports Pamela Danziger of Unity Marketing. According to a Deloitte survey she cites, 48.9 percent of U.S. millennials surveyed always consider a brand's ethical stance before purchasing.
Simply assuming all is well in your supply chain is not sufficient anymore, says Andrea Hill. "Ask better questions and do some work to figure out the realities of the products that you carry."
It doesn't have to be all or nothing. "Say you carry certain pieces that use ethically sourced metals and gems. Some retailers say that drawing attention to that makes all the rest of the products look bad. Abandon that thought process. Gluten-free food doesn't make other groceries look bad," says Hill.
"If a customer says, 'I'm really uncomfortable with gold mining,' you can say, 'Here are some options for ethically sourced recycled gold.' The next person who walks in and doesn't care is not going to ask for it. But having the option will make sure you are bringing younger people or more socially conscious people into your customer base and prepares you for the evolution of the supply chains," Hill adds.
OUT:

Traditional store design


IN:

Customer-centric store design
Traditionally, jewelry stores were built to project the same level of stability that a bank would, while minimizing risk and employing luxury finishes that reflect the product.
Jesse Balaity, owner of Balaity Property Enhancement, says that independent jewelers are becoming increasingly willing to stray from those tenets of Old World luxury.
"I will travel to meet with a new client and go through the list of jewelry store design requirements," he says. "Then we'll go to the client's favorite restaurant, meet at my hotel's lobby, or stop in a coffee shop, at which point I ask, 'Why can't your jewelry store feel like this?' Something clicks. Then we start designing a space not just befitting the product, but also befitting the customer."
To accomplish this customer-centric redesign, retailers are mixing up case sizes as well as floor and ceiling treatments and are relying less often on a ring of same-sized showcases in the center of the store. New modular case configurations allow associates to be on the same side as shoppers, making the process more friendly and casual. Balaity advises his clients to bring showcases out from behind counters, too; no one buys what they can't see up close.
His most important advice, though, is stop treating seating as an afterthought. Think of a lounge or bar as not just a necessary sacrifice of showcase space, but as an amenity that demonstrates your commitment to the customer experience.
Balaity says his clients Barry and Laura Cole were willing to take a big leap in their latest location of Beré Jewelers in Pensacola, FL, by including a full bar area, an outside seating area and a lounge area, too. "When you walk in and see Barry in this environment, it looks like you're seeing him in this large living room," Balaity says. "It really is the owner's personality that melds with the design and makes it a retail experience."
Becky Bettencourt of Blue River Diamonds in Peabody, MA, took a similar leap. Her first store had very traditional cases where the sales professional stood behind the case. "When we opened our second store and relocated our first, we integrated more front opening cases and allowed our prototypes to be out in the open, as well as creating comfortable seating areas where we can build more of a relationship with the customer. Going forward, we are going to find more ways to create this more comfortable, conversational way of doing business. I don't see us going back to the stuffy, closed-off way of selling."
OUT:

Let them take it or leave it


IN:

Offer customization
Millennials and Gen Z have broadcast their feelings about personalization loud and clear. When shopping for anything from running shoes to engagement rings, they expect to get exactly what they want. According to The Knot 2020 Jewelry & Engagement Study, 48 percent of couples who got engaged between April and November 2020 did so with what they described as a customized ring.
Admittedly, it takes some adjustment to make that shift.
"Ten years ago, everyone didn't have a smartphone in hand with an item she saw on Pinterest that you need to locate only for her to see it live and realize it wasn't as big as she thought it would be or look as good on her hand as she thought it might be," says one retailer responding to a question in INSTORE's Big Survey. "Feels like we are scrambling to find things they think they want."
But it's a change that can be both lucrative and personally rewarding if you're prepared for it. Custom creations can't be price shopped online. Douglas Elliott, designer for Marisa Perry in New York, for example, had a client who wanted a twisted band that incorporated a Game Of Thrones style dragon into the design, while his bride-to-be loved the halo look. Elliott managed to combine those disparate ideas into a cohesive design that satisfied all parties. Try price shopping that online!
Remember, too, that custom design can mean anything to shoppers, from choosing a separate diamond and setting to sitting with a bench jeweler with pad and paper or CAD software and having a real hand in the design of their ring. Most custom jobs lie somewhere in between. Shoppers want to be able to tweak their rings with a different color gold, a different shaped diamond, or a slight twist to the setting style.
If you're not equipped for in-house customization, partner with a responsive supplier who can tweak designs for you. Designer and manufacturer Marc Adwar of Brooklyn Jewelers, for example, says a state-of-the-art CAD facility ensures adjustments can be made on the fly. "Maybe a customer doesn't want that shank or another customer says, 'Hey, we want to add this element on.' You can take a traditional thing and put a little twist on it."
Debbie Klein, owner of Art + Soul in Boulder, CO, offers custom design and remodel through the jewelry designers represented in her store, a service she's branded under the name Designlab. "It would be challenging to work with a designer who wouldn't take custom requests," she says.
OUT:

Hiding pricing


IN:

Price transparency
Consultant Larry Johnson, author of The Complete Guide To Effective Jewelry Display, says he is amazed when he hears fine jewelry retailers say they will never stoop to showing prices. "Those days are over," Johnson says.
Advertisement
Rod Worley, CEO of Four Grainer, a jewelry industry management consulting firm, says that particular outmoded mindset can be traced all the way back to U.S. financier J.P. Morgan, who reportedly said, "If you have to ask the price, you can't afford it." Jewelers who adhere to it say this approach separates their clients from those who are "just looking."
"Many are reluctant to display prices because they cling to an untenable view of exclusivity in a global luxury market," Worley says, while others have the naïve notion that if they don't display prices, they won't be shopped on the internet.
But displaying prices in select cases has been proven to cut down on the number of browsers who claim they are "just looking." Seeing a price helps to answer a client's first unspoken question: "Can I afford the jewelry in this case?"
Price transparency also builds trust in the business.
Where to begin? Johnson recommends putting prices on half of the items in your case. Choose the ones that have a lot of bling or "look" for the money and display monthly payment possibilities as well.
OUT:

Website as a Yellow Page listing


IN:

Website as a second store front
Debbie Klein has emphasized Art + Soul's online side for years, and it paid off in 2020. For three months at the beginning of the pandemic, at least 60 percent of her business either originated or was completed through her website. In 2020, direct online sales accounted for 20 percent of all revenue.
"We were crazy busy during the shutdown working with clients by email or phone who wanted more information on pieces they saw on my site," she says. "The first thing I did when it looked like we were going to have to close was put a chat app on the site, and that kept me very busy (usually at the most inopportune times!).  Overall, we ended up doing three times the amount of sales on our site this year than we did last year, but the higher-end item sales generally begin with an inquiry and are completed with more staff interaction."
In INSTORE's 2020 Big Survey, nearly a third of retail respondents characterized e-commerce as a moderate source of revenue; another 12 percent described it as substantial. And according to The Knot 2020 Jewelry & Engagement Study, nearly a third of engagement rings were purchased online in 2020.
But Rod Worley says despite all this evidence of the need for e-commerce, independents have been slow to modernize their websites, a situation that has become a pet peeve for him. "They are more reminiscent of an outdated Wikipedia page than an invitation to discover their brand experience," he says. "They display their online jewelry offerings with the same subtlety and intrigue reserved for frog dissection in high school biology class."
Where to start? Remember that appealing product photography is a simple but critical requirement for e-commerce success. According to Checkout: The Step By Step 7c Method To Build A Dominant E-Commerce Business by Neil Verma, 60 percent of online shoppers say it takes at least three product images for them to consider clicking the buy button. Katie Kinlaw of The Smithee Group recommends including lifestyle photos as well as 360-degree videos of products in the assortment.
Also important are solid product descriptions. Be descriptive about carat weight, metals and setting style. Answering questions that a consumer may have in advance lowers the barrier to making a purchase as well as cutting down on returns.
OUT:

Hide the shop


IN:

Make it part of the experience
Much like houses with open floor plans that bring dream kitchens front and center, jewelry stores are tearing down walls and creating windows to show off their shop spaces. And just as open residential floor plans make it easy for guests to hang out around your kitchen island and mix their own drinks, some jewelry store guests are invited do everything from pour their own gold, like they do at the Pour Your Heart Into It Bar at Thollot in Colorado, to make their own wedding bands, like they do at The Smithery in Columbus, OH. At the very least, customers are invited to watch and learn how their treasured pieces are made or repaired. "In the past, you would not see the shop area at all," says store designer Leslie McGwire, who designed Waterfall Jewelers in Waterford, MI, to put the shop on display. "Today, it is seen with glass windows so the client can watch the talented jewelers work in action. It's important to make this happen in the planning stages." This approach creates a new level of experience while also allowing transparency.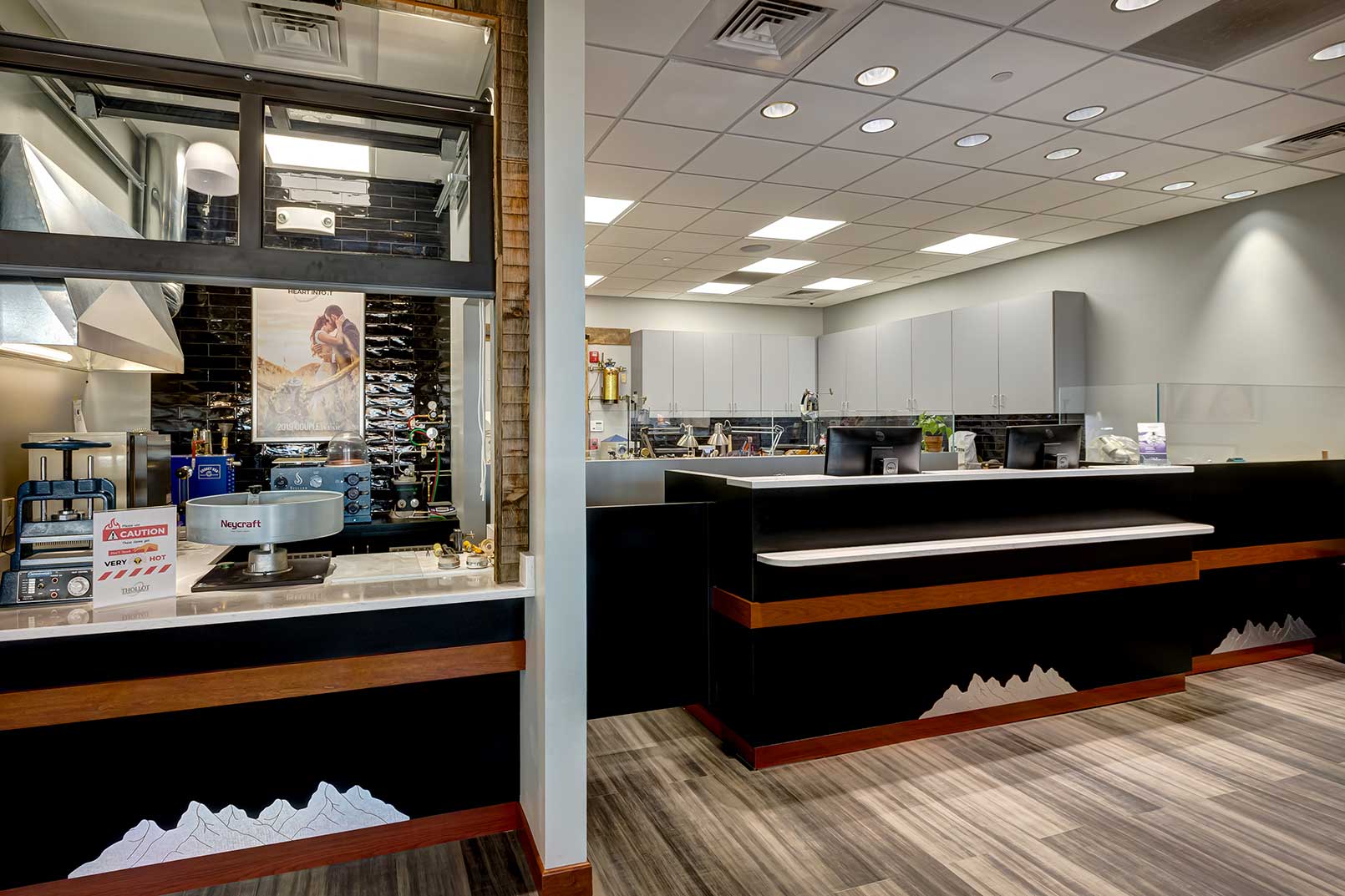 OUT:

Slow-motion communication


IN:

Mobile and always on
Retailers who hoped the mobile shopping habits of millennials (born between 1977 and 1995) were a fluke or a fad must realize by now that these changes aren't going away, but instead are even more fully ingrained in the first generation of digital natives, Gen Z (born between 1996 and 2012). Thirty-three percent of Gen Z girls spend 10 or more hours a day on their phones, according to a Common Sense Media study. Gen Z is coming of age with everything from
Alexa answering their trivia questions to never having to carry cash, thanks to payment apps like Venmo. Retail jewelers have to learn to connect with them where and how they live.
"If the customer wants to chat with you on the website at 3:30 a.m., you have to be available to them," at least with an auto-response, says Elliott Spicer of Spicer Green.
Find out whether customers like or don't like texts, emails or phone calls and tailor the experience to them. In general, if clients get a text about a product or service they're interested in, it speeds up the conversation and they're more likely to respond, Grazi says.
That tailored experience includes allowing them to make the purchase any way they'd like, including through platforms that defer payments and allow instant gratification. "A store branded credit card is not the preferred form of payment," Grazi says. "It's all about buy now, pay later," with payment platforms like Klarna, Affirm and After Pay, which are increasingly available for brick-and-mortar transactions as well as online.
Ken Jacobs, owner of Wanna Buy a Watch in West Hollywood, CA, posts 10 to 12 photos of watches weekly to Instagram. "While we enjoy heavy traffic from our website, which showcases every item in our shop, it is dwarfed by the speed, exposure and broad reach we achieve with our Instagram posts and stories," he says. "Watch collectors and enthusiasts proliferate on Instagram. It is valuable to us to showcase specific cool pieces, creatively shot by our photographer, but it keeps us engaged particularly with our young, affluent demographic, with their appetite for watches. We are brick-and-mortar, but we remain relevant and hip."
In addition to multi-channel digital approaches, Bill Jones of Sissy's Log Cabin leaves his personal cell phone number as well as the manager's number on the front door of each of his stores with instructions to call him in case of a "jewelry emergency." When calls come in, they are usually from clients who have forgotten an important occasion, creating the best kind of jewelry emergencies for a retailer who wants to excel at customer service.
OUT:

Fluorescent and halogen lighting


IN:

LED lighting
Few upgrades bring as many tangible, real-world results to your bottom line and brand experience as professionally designed lighting.
For Randy Mitchum, choosing all recessed LED lighting for his renovated and expanded Mitchum Jewelers store in Ozark, MO, was a game changer. "When we turned on the lights and everything was LED, that rocked my world," he says.
"If you worked in a store with fluorescent and halogen lights and all of a sudden it's so much brighter, you can go into shock. People talk about how amazing the lighting is."
At John Atencio's store in Lone Tree, CO, the backlit John Atencio sign centers and frames the glass façade using cutting-edge LED technology. "We were able to increase the brightness by 10 times, making it far brighter and more impactful than any sign we have created," Atencio says.
Rod Worley says store lighting has evolved from mass-marketing illumination to a more nuanced boutique approach. Subtle changes in the intensity, type, and warmth of the lighting quickly shape the buying experience subconsciously.
OUT:

Throwing big events


IN:

Focus on appointments and Zoom meetings
The COVID-19 pandemic forced most jewelers to scale down events in the past year. That necessity has made retailers more creative about ways to make every touch point more personal.
Some who have moved to by-appointment-only shopping say they love it and plan to continue that mode of operation. And Zoom appointments with clients have become a way of life for many.
Holly Wesche of Wesche Jewelers in Melbourne, FL, who spoke during a National Jeweler webinar in November, hosted 19 clients during a virtual gem party on Zoom last year. "We're used to having 200 people rocking and rolling at an event," she said. "I miss the energy you get at a big event, but necessity is the mother of invention. We've got to be more open-minded. We've got to be more creative."
Some jewelers have begun to realize just how much they like being open by appointment only. Says one Washington state retailer who responded to the November Big Survey: "I know what people want before they come in, so I can prepare and order in memo goods if needed beforehand. Knowing their name before they get here helps add a hometown feel, like you are dealing with a real person, not a computer." Customers love the personal service and that they don't have to wait in line.
A retailer in a small city in Georgia says scheduling appointments has made him feel in control of his life and business for the first time in 41 years. If he doesn't have a late appointment, he leaves by 4:30 every day and walks through a park on his way home. "I finally have some 'me time,'" he says.
OUT:

Ignoring diversity


IN:

ENSURING INCLUSION
Retailers must think about diversity holistically, says consultant Andrea Hill. "One of the ways you can differentiate your product offerings is to consider jewelry designers who bring a different thought process to their work. Who do you carry? Who do you employ? How do you treat the people who come into your store? Who is depicted in your advertising? Different ages, different cultures, whoever lives in your area needs to be represented."
Louisiana-based Lee Michaels Fine Jewelry has hired a consultant to develop a diversity-training program, which began on the management level. It includes a Zoom presentation about embracing differences followed by a 90-minute discussion. "It's something we need to talk about," said executive vice-president Chad Berg during a National Jeweler webinar in November.
Equality in the workplace is an important component of the diversity equation, says Grazi of the Natural Diamond Council. "When you're hiring a team, it's important that they reflect the community that the store is in."
Elena Davis of Towne Square Jewelers in Charleston, IL, learned the hard way that heteronormative or gender exclusive language in advertising can create problems. "Some of our 'cute' advertising was not being well received," she says.
"Since we made the change, we have had customers come in and tell us they appreciate it and are now willing to shop with us."
Merchandise, too, can be inclusive. Jamie Hollier of Balefire Goods in Arvada, CO, presents all jewelry as unisex. "The idea of certain jewelry being for a man or a woman doesn't fit with many of our customers," she says. "Everyone
should be able to wear jewelry that brings them joy, regardless of how others may label it."
OUT:

Business as usual


IN:

A commitment to putting shoppers at ease
Many shoppers will continue to expect to find hand sanitizer near the front door of your store, permanently. If you make a commitment to cleanliness, healthy ventilation, and masks, (as long as they're needed), it's important to stick with that commitment to establish trust. "We make our decisions based on a good faith belief in what other people tell us," Peterson says. "If you tell me you're doing all these things to keep people safe and I choose to come to your shop because I trust you and I get there and see there's fingerprints all over the glass and the person behind me came in without a mask and you let them in, because you know them, you lied to me."
It's also important to offer a mental respite from the reality of living through a pandemic even as your store promotes safety. Staff chatting among themselves or with clients about uncomfortable masks or mutating viruses will not sell jewelry.
"People who come to you are all hopeful," says Bob Phibbs, CEO of the Retail Doctor, based in New York. "Nobody buys a diamond ring for a funeral. You have to realize that when they come in hopeful, they are coming in to escape the news. Learn how to pivot the conversation. Focus on that in your marketing and on your sales floor." How to redirect? "Start with active listening," Phibbs says. "Most of us have stopped listening and that's deadly in retail. The clues of what someone will buy are there in the conversation. You have to bond with them first before you sell the product."
OUT:

Intrinsic value


IN:

Subjective value
What people value has changed dramatically, says Peterson. Now, the value to the consumer may have little or nothing to do with materials and exquisitely designed and crafted silver pieces can command high prices. "It's not about how much money you can put into the metal. We've come almost full circle to the Art Nouveau period when they cared about how well it was constructed and what it meant to them more than what it was made of," she says. "You could find something that was remarkably valuable made from wood or hair or bone. Personal symbolism and meaning are more important." That change requires a major shift in thinking. "We still think like people in this industry, and ask, `Where's the value? What's the diamond weight?' but value has become so much more subjective," Peterson says.
This idea extends to what many experts say is an outmoded attempt to sell diamonds as an investment. Edahn Golan of Edahn Golan Diamond Research, Analysis & Data, says that's a horrible idea, not only because it's not generally true, but also because it wrecks the romance of the gift.
"Nobody spends $3,500 on their beloved just so they can sell the ring later at a similar price. It's not a car. You know at some point you're going to sell a car. But when you buy your beloved an engagement ring, you're not going to sit there and say at some point this is going to be over and you'll have something in hand you can sell off!
"Bringing resale value into an equation is a huge mistake. Instead, tell them a story, tell them about the 4Cs, show them movies from Botswana and how the jewelry industry supports people in Botswana, the Congo and Canada. Selling on resale value is a huge mistake unless you want to sell cheap."
OUT:

Displaying jewelry passively


IN:

Curating your offerings
Online shopping has made a curatorial experience in brick-and-mortar as essential as it is online. "I think it is time retailers realized that the way they display their merchandise directly impacts how the customer perceives it," says Larry Johnson.
"Many jewelers retain that old mindset of just laying it all out there in the case and letting the customer sort and pick out their choice. Your customer will NOT sort through hundreds of choices." Johnson says if you're not willing and qualified to guide the customer through the shopping journey, you shouldn't be surprised when they leave and buy elsewhere. "Display the items you recommend and want most to sell in a way that draws more attention to them," he says. "Have a story about your merchandise and sell that."
Johnson suggests building a sales presentation with the goal of competing with how Blue Nile and other online retailers operate. Elliott and Eva-Michelle Spicer did just that at Spicer Greene Jewelers. To emulate how diamonds are laid out on their website and on other e-commerce-enabled websites, they present loose diamonds in a grid format in their cases. With an innovative layout, a large selection of loose diamonds and a focused marketing campaign, they boosted diamond sales from $150,000 to over $1 million.
Anne Russell, VP of Hamilton Jewelers, focused on visual merchandising when setting up H1912, a niche offering that specializes in vintage looks. "Vintage jewelry can look very quickly like a lot of STUFF, instead of a collection of fine vintage jewelry, Russell says. "So we display by period and also make sure we are not over-merchandising or over-assorting our pieces so you can focus on each individual piece. We use non-traditional props because we really want it to look different."
OUT:

Not giving them a second thought


IN:

Exploring lab-grown diamond options
A little more than half (51.76 percent) of respondents to INSTORE's 2020 Big Survey in November said they DO sell lab-grown diamonds; 37.18 percent said they do not. Another 11 percent say they're looking into it.
"My 2-cents on lab-grown? They are here to stay," says Tom Nelson of Nelson Jewelry in Spencer, IA. "I had a 70-year-old lady ask me about lab-grown when looking at a pair of diamond studs for her 50th anniversary gift to herself. That to me is a pretty solid sign lab-grown is not going anywhere."
Diamond analyst Edahn Golan says it's important to decide on your policy and your positioning and execute a strategy that works for you when it comes to lab-grown diamonds. But because many shoppers want a larger center stone on a budget right now, it's worth considering. "If somebody walks into a store, I don't want them to walk out without pulling out their credit card," Golan says. "So I want to be able to sell them a lab grown pair of earrings."
OUT:

A big focus on giftware


IN:

Adding a little something extra
Christine Matlack, EG Landis Jewelers, Boyertown, PA, says her family store used to carry large gift lines. "Remember Hummel figurines? Swarovski? They were more restrictive than PANDORA!!! One time the rep from Swarovski told my dad he had to take the crystal Bulova clock out of HIS, the reps' case, and if he didn't remove it immediately, he was going to take it out and throw it. My dad asked him to leave and told him if ever came in the store EVER, he'd throw him. And my dad could have. He was 6 feet 4 inches, 225 pounds, and the rep was tiny. Ahhhhhhh, the good old days."
Rebecca Larson of Barry Peterson Jewelers in Ketchum, ID, agrees giftware as a big piece of the jewelry business is out. "Since people have more access to fine tableware, giftware, etc., we do not see the same frequency of customers coming in to look at items other than jewelry. We do still carry picture frames and baby ware as a one-stop convenience for those looking to have something special engraved."
What does work for stores these days is a gift item that complements a jewelry purchase while allowing your business to stand out as a brand, like the curated gourmet chocolates offered by Ellen Hertz at Max's in Minneapolis, or the flower bar that's part of the brand at Lane & Kate in Cincinnati.
OUT:

A Luddite approach


IN:

Experimenting with in-store technology
The customer experience in jewelry stores should reflect what's happening tech-wise in other retail segments. At James Allen's brick-and-mortar showroom in Washington, DC, customers learn about diamonds in a 3D, virtual reality experience, reach into an open display to try on engagement rings, and view their rings at a photo booth equipped with lighting and effects that makes sharing photos both simple and entertaining, says Johanna Tzur, chief marketing officer for jamesallen.com.
Rebecca Larson of Barry Peterson Jewelers in Ketchum, ID, is using window displays as visual catalogs for online purchases, equipped with QR codes near products for window shoppers to quickly learn more about each collection as well as purchasing options.
Advertisement
Looking to modernize your store? Consider the overall retail landscape, says Bob Phibbs, The Retail Doctor. "In this day and age, you don't want to redo a store just because you're bored with it. I start always with 'What's the technology you need to have in place?' You should be able to ring someone up without counters, for example."
OUT:

Formality


IN:

Smart casual
Have you given much thought to how your clientele responds to your dress code?
In INSTORE's 2017 Big Survey 11 percent of independent jewelers opted to wear a suit at the store, while 69 percent said their choice of attire could best be described as smart casual. "Things need to be lightened up. Customers of all ages need to feel comfortable walking in."
In the 2020 Big Survey, retailers said that "slick guys wearing suits" are seen as uptight and create a level of formality that is intimidating to younger generations. One respondent said young people would rather use the internet to buy a diamond than to have to come in and deal with the arrogant and snooty feeling that has been historically associated with a high-end jewelry store.
Another respondent says, "I am considering casual and tasteful attire as opposed to more formal. People worked mostly from home in 2020 and they visit us in very casual attire."
When Robin Salzberg and Daniel Wright reinvented her family's high-end jewelry store in 2018 as Lustre by Adolf, they made a conscious decision to tone down the formality. "We're not stuffy!" says Robin. "We designed the store and relaxed what we wear to comfortably cater all guests, both old and new. We offer prices ranging from $50 to $300,000. Oh, and we sell 15 carat diamonds while wearing denim!"
OUT:

Big sales


IN:

A clearance strategy
"With markups so slim," says Julie Terwilliger of Wexford Jewelers in Cadillac, MI, "we only have a clearance section now and don't ever have to stress about running percentage sales. Once an item overstays its welcome, we move it to clearance, and it's gone. We prefer to do promotions, gif with purchase, dollar off coupons, etc.
"We used to have generic monthly sales events," says John Zeke of Zeke's Jewellers in Brandon, MB. "That doesn't work anymore. We have to concentrate on making sure we can give the client a benefit for them to shop at our store, not just offering a discount.
Retailers have also had success in 2020 selling aged merchandise and street buys they'd rather not scrap over live internet auctions.
One of the first things John Carter, owner of Jack Lewis Jewelers in Bloomington, IL, did during the spring 2020 pandemic shutdown was to create an online auction for finished jewelry and loose colored stones. Purchasing, bidding, viewing and shopping were all done online, and prices slashed by 50 to 70 percent. He sold 50 loose colored stones. "Even if you're selling them in an auction at reduced prices, there's the opportunity to get the custom work out of it, and the customer ends up with a one-of-a-kind piece," he says. Carter may continue to offer a digital clearance case online, even if it's not in an auction format.
OUT:

Hiring for the status quo


IN:

Hiring people who can meet the new demands of retail
Hiring needs to reflect the changes happening in retail, says Andrea Hill. Because many stores did downsize in 2020, they'll be looking to staff up again toward mid-2021. "It's an opportunity for the jewelry industry to approach hiring in a more sophisticated way, to reflect on what makes a great customer service person, on who we hire and why we hire and what we expect them to contribute," Hill says. What should you look for? "People well versed in omni-channel marketing and people who don't need a class to know how to talk with a millennial and who will be excited to introduce their peers to fine jewelry."